Our Java Development Services
Reliable and scalable Java development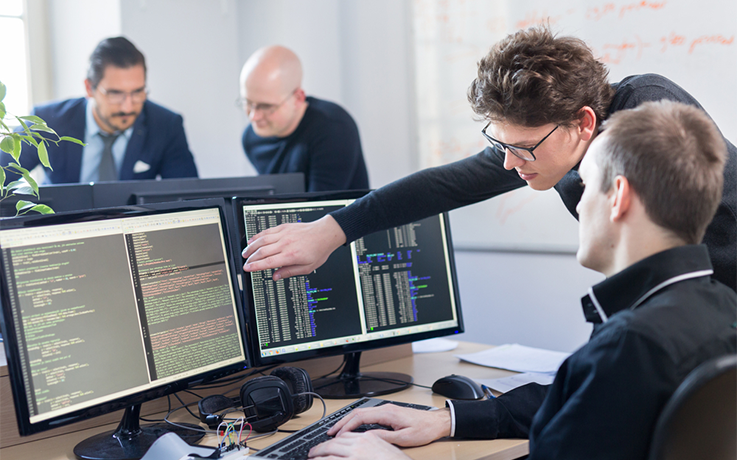 Designing fast and scalable web apps requires a combination of the right development architecture and an expert team. Create anything - from small functional products to complex, large-scale apps with expert Java development.
We have a versatile team of skilled Java programmers (java web & mobile developers), who are proficient in Java programming & software development and have deep expertise in different java technologies & services, SDKs, frameworks & tools. Our development team's years of experience have proven their deftness in the timely deliverance of a wide variety of development services, as well as in providing elaborative & helpful assistance with your development projects.
Our Portfolio
Our Awesome Work
We are a globally recognized solution provider that offers innovative marketing solutions, custom strategies, channel expertise, and flawless execution.
"TapGency was very flexible in adding smaller features in the website along the way. We found something later that might be very important to add to the app, and TapGency responded and acted quickly. The process of their worked is excellent."
– Pia Seeberger,
Siemens
"We have been highly satisfied with the Web Designs Prime web service. They hit the nail. We are a startup company and we were looking for something customized, affordable and reliable and Web Designs Prime ticked all the checkboxes."
– Amber Alvarez ,
Project Owner
"Working with TapGency was amazing and they did a commendable job in revamping our website which was not very effective earlier. But now it is not only visually appealing but is also drawing a lot of traffic. I highly recommend TapGency. for their web service."
– Nathan Walker ,
Senior Software Engineer
"One of the best choices I've done for my business. Not only did I get a great product but they have such an amazing team especially Fred. They help me design my merchandise and took my feedback and delivered a product that has transcended my business."
– Stephen Parker,
Entrepreneur
Get applications into production
Build powerful and stable business applications
Most large fintech's that demand robustness, stability, and cost-effective development use Java
01
Language longevity:
Java was first released in 1995, and it is still one of the most popular languages today. Java's long lifespan is due to its stability, maturity, and wide range of features.
02
Object-oriented programming:
Java is an object-oriented language, which means that Java programs are composed of objects that interact. Object-oriented programming makes Java code easy to understand and maintain.
03
Simple to learn and maintain:
Java is a simple language to learn, and it has very few syntactic rules. Java code is also easy to maintain because Java is a statically typed language. This means that Java programs do not change their type at run-time, making Java code less error-prone.
04
Security:
Java is a secure programming language because it uses secure features such as bytecode verification and sandboxing.
05
Automatic memory management:
Java uses automatic memory management, which means that Java applications do not have to manage memory manually. Java uses a garbage collector to reclaim unused memory, making Java applications more stable and reliable.
06
Multithreading
Java supports multithreading which means that Java applications can run multiple tasks simultaneously. Multithreading makes Java applications more efficient and responsive through maximum CPU utilization.
Custom Java application development by industry experts
We are Java development experts with a rich track record of successful projects for clients worldwide. Whether you need an app that is simple or complex, we can deliver it on time and within budget.
"We were able to do more with less because of our Tapgency, with an integrated telephony and contact center system that transformed our reporting capabilities."
Marc Jülicher,
Technical Director