framework to bring your product ideas
What is Flutter App Development?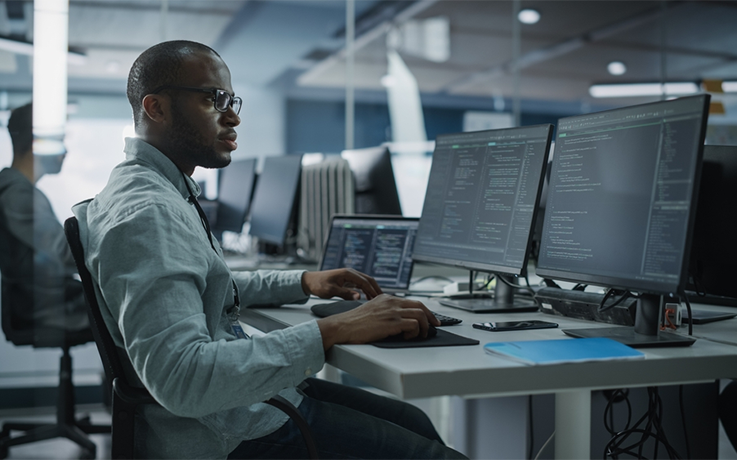 Google's Flutter is an open-source, cross-platform app development framework to develop native iOS, Android, and Web apps - with support for Desktop Apps on the way. With Flutter app development, we use a single codebase to build cross-platform apps that speed up app development, reduce bugs, and increase your ROI.
At TapGency, our Flutter app developers use this framework to code once and deliver a consistent experience across any device with a screen (including a Raspberry Pi). Being a leading Flutter app development services provider, we help you build functionally-rich, visually appealing, and chart-topping cross-platform apps.
Our Portfolio
Our Awesome Work
We are a globally recognized solution provider that offers innovative marketing solutions, custom strategies, channel expertise, and flawless execution.
"TapGency was very flexible in adding smaller features in the website along the way. We found something later that might be very important to add to the app, and TapGency responded and acted quickly. The process of their worked is excellent."
– Pia Seeberger,
Siemens
"We have been highly satisfied with the Web Designs Prime web service. They hit the nail. We are a startup company and we were looking for something customized, affordable and reliable and Web Designs Prime ticked all the checkboxes."
– Amber Alvarez ,
Project Owner
"Working with TapGency was amazing and they did a commendable job in revamping our website which was not very effective earlier. But now it is not only visually appealing but is also drawing a lot of traffic. I highly recommend TapGency. for their web service."
– Nathan Walker ,
Senior Software Engineer
"One of the best choices I've done for my business. Not only did I get a great product but they have such an amazing team especially Fred. They help me design my merchandise and took my feedback and delivered a product that has transcended my business."
– Stephen Parker,
Entrepreneur
Get a flawless mobile app
Why should you choose Flutter App Development?
Here are the benefits of Flutter app development compared to Native and Hybrid App Development
01
Cost Savings
Having a single codebase means coding once (most of the time) which reduces efforts in developing, testing, and managing two apps. You can expect to save upwards of 40% in most cases
02
Faster Go-to-Market
As you spend less time coding, your mobile devs can work on different functionalities rather than replicating it on a different platform. Thus, with the same resources, you can reduce your time-to-market.
03
Better Performance
Unlike hybrid mobile apps, Flutter doesn't need a bridge to communicate with the underlying OS. Hence, Flutter apps are equally performant as native mobile apps.
04
Hot Reload
With the Hot Reload feature, developers can quickly see the changes in the code on a simulator in real time. This saves a daily overhead while building the app and increases productivity.
05
Support for Older version
Flutter uses its own rendering engine which gives it an edge over other cross-platform tools. Thus it is able to work with many older versions of Android as well as iOs.
06
Web Support
Flutter for Web allows our developers to bring your Flutter code to web browsers. We can package your existing mobile apps into PWAs and deploy your mobile app without rewriting it.
We help companies succeed with Flutter
Keep up with the mobile-first world! Get in touch to build a multifunctional, user-friendly, secure mobile app for your business.
"We were able to do more with less because of our Tapgency, with an integrated telephony and contact center system that transformed our reporting capabilities."
Marc Jülicher,
Technical Director