Find the right web development partner
Talent solutions for the changing demands of your technology workforce
Unattended tech talent gaps can lead to unhappy customers and loss of revenue. But finding the right talent with development skills is hard. TapGency gives you on-demand access to world-class skills across the development spectrum so that you can build profitable digital products.
Our Talent Solution Offerings
We offer multiple ways for you to augment software development capabilities. Whether you want to build a product from scratch, modernize an existing piece of software, or seek strategic tech leadership, we cater to all your talent requirements.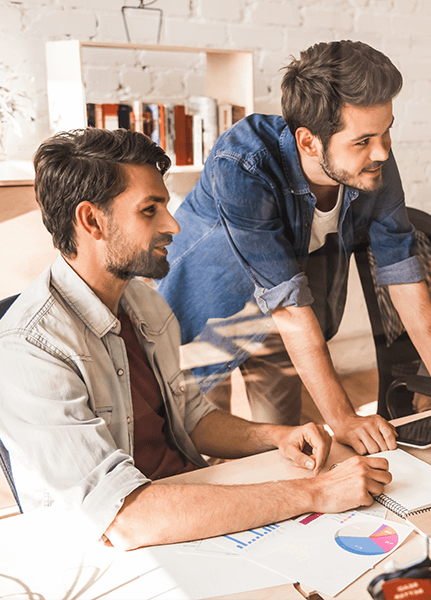 'There is no one-size, one-idea-fits-all kind of solution'

Managed Team Extension

With the Team Extension Model, our engineers become an integral part of your team during the entire project. You focus on your business priorities while we take care of sourcing, onboarding, & managing the developers, QA experts, and operations engineers for your growing business requirements.

'TapGency can take over any digital product engineering tasks you want to outsource'

Smarter IT Outsourcing

Get yourself an expert, autonomous, and reliable development team that will take care of end-to-end software development processes so that you can focus on core competencies and other critical challenges. With 12 years in software development, TapGency can take over any digital product engineering tasks you want to outsource.

'Empower cross-functional team collaboration to deliver projects on time'

Scalable Agile Teams On-Demand

Our cross-functional, scalable, agile teams follow the iterative principles of agile methodology to deliver digital products that delight your end-users and boost growth. Agile teams are tailored to your needs and cross-functional covering all the necessary skills, and include developers and quality analysts as well as operational experts.

'Quality of products to minimize the number of defects and vulnerabilities'

CTO as a Service

For fast-moving businesses, managing the tech can sometimes be a distraction. Choosing a CTO as a Service can simplify access to the hard-to-find senior technical members needed to bridge the gap between tech implementations and business results. Get seasoned industry experts to strategize, supervise, and optimize your tech projects.
We Design. We Develop. We Take Quality Websites From Start To Finish
Our web development team includes dedicated web developers & designers, QA specialists, and experienced project managers. TapGency team has created a web development lifecycle that ensures the optimal uses of our resources and your budget.
01

Choosing the team

We pick a talent pool with the right team, the right expertise, domain knowledge, and willingness to adapt and evolve to your project environment.

02

Development methodology planning

Choose the suitable methodology that empowers the development process to be conducted at its best. Our team members follow sprint planning and agile techniques.

03

Architecture Creation

We handle all architecture evolution requirements ranging from UI/UX enhancement, decoupling tightly packed features by migrating to microservices or modularizing the existing architecture.

04

Project Delivery

Beyond development, we set various endpoints where at each point, we deploy the completed project in several phases to reduce reiteration and ensure smooth deployment promptly as promised.

05

Intelligent Testing

We create useful test cases catered to identify septic storage problems, memory leaks, and security vulnerabilities. We used a variety of testing technologies and tools that best fit your project.

05

Periodical reviews

We conduct timely reviews to squash any foreseeable concern, present weekly demos, and standups to address any existing bottlenecks to ensure everyone is on the same page.
14

+

Years on the market

900

+

People on Board

1000

+

Projects Delivered
OUR CASE STUDIES
Check Out Our Recent Work
Do not believe our words. Believe in our work. Our team has worked on a few exciting projects with different web technologies and requirements over the years. Check out our portfolio of recent web development clients.
Software Development in Cutting-Edge Technologies
For white label web design and development, you need to select the technology stack as per your requirements. We at TapGency are aware of different programming languages and databases to build your custom web solution. If you are not sure about the technology stack for your business, we will help you to choose as per your client's requirements. Below are the technologies we are sound at.
React Native

Angular

Flutter

Node.JS

Core PHP
Tell Us About Your Project
We provide secure, scalable, and affordable web development solutions. Get a custom web app of the highest code quality with our experienced web app developers.
"We were able to do more with less because of our Tapgency, with an integrated telephony and contact center system that transformed our reporting capabilities."
Marc Jülicher,
Technical Director