Our Angular Development Services
Streamline Your Business With Top Angular Development Company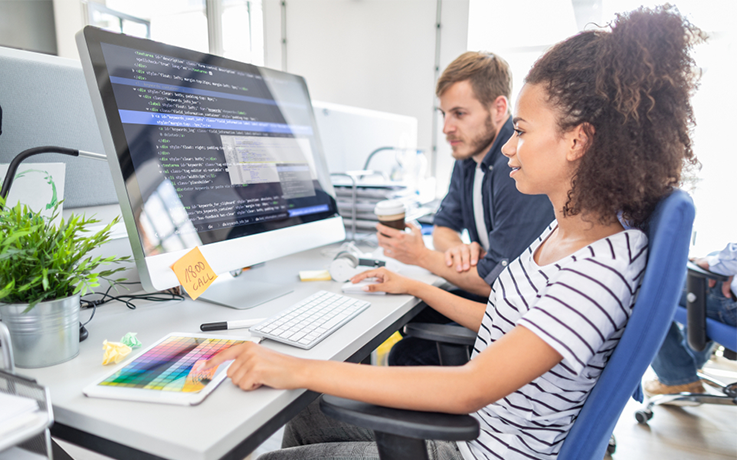 AngularJS is an open-source JavaScript platform. It is mainly used for front-end mobile applications. It is also used to create feature-rich and functional web applications. This platform is a web developer favorite. It allows single-page application development for browser-based applications. AngularJS is highly trusted for frontend development. With React Native and Mongo DB, it allows flexibility and functionality. It has a strong MVC architecture that eases the back-end management easy of websites while making them more interactive and responsive.
TapGency is a top-notch AngularJS web development company and one-way solution to your entire AngularJS Development needs. We offer flexible and customised AngularJS mobile app development services, targeted from Development to optimisation. TapGency provides The best AngularJS developers. Our team is an expert in AngularJS web development and also understands the technology surrounding it. We deliver fast and responsive web applications and websites that are feature-rich and easy to maintain.
Our Portfolio
Our Awesome Work
We are a globally recognized solution provider that offers innovative marketing solutions, custom strategies, channel expertise, and flawless execution.
"TapGency was very flexible in adding smaller features in the website along the way. We found something later that might be very important to add to the app, and TapGency responded and acted quickly. The process of their worked is excellent."
– Pia Seeberger,
Siemens
"We have been highly satisfied with the Web Designs Prime web service. They hit the nail. We are a startup company and we were looking for something customized, affordable and reliable and Web Designs Prime ticked all the checkboxes."
– Amber Alvarez ,
Project Owner
"Working with TapGency was amazing and they did a commendable job in revamping our website which was not very effective earlier. But now it is not only visually appealing but is also drawing a lot of traffic. I highly recommend TapGency. for their web service."
– Nathan Walker ,
Senior Software Engineer
"One of the best choices I've done for my business. Not only did I get a great product but they have such an amazing team especially Fred. They help me design my merchandise and took my feedback and delivered a product that has transcended my business."
– Stephen Parker,
Entrepreneur
Reliable Angular Development Partner
Result-Driven Angular Development Services
Hire Angular developer from us to leverage the full advantage of our Angular development services and in return get customized Angular architectures that ensures high performance and scalability.
01
Agile Development Approach
We focus on customer delight throughout the AngularJS web and mobile app development process and strive to deliver the best solution in shorter sprints. We practice a secure agile development approach all through the project.
02
Angular REST API Development
Being the top Angular web development company, we make sure that our Angular Programming includes intuitive REST API designs with an interactive Angular front-end development. Hire Angular developer for the REST API integration.
03
Angular Enterprise Application Development
Being the best Angular application development service provider, we have well-established our reputation in developing budget friendly applications for all the shapes and sizes of businesses be it enterprises, schools, charities, private organizations and government institutes.
04
Angular UI Bootstrap
We strive to use Angular perks, but our expertise is not limited to Angular customization services, our Angular experts have hands-on knowledge on developing web front-ends using Angular UI Bootstrap components.
05
Directives and Dependency Injection
Our Angular developers make use of optimum directives to create HTML tags for web and mobile apps. And, precisely use the dependency injection to complete the app development and testing procedure so easy and convenient.
06
Third Party Integrations
We offer third-party integrations services for the websites developed in Angular to improve and enhance the capabilities of Angular applications and we also enable the customization.
We ensure you're matched with the right talent based on your requirement.
When you work with TapGency you'll have a dedicated technical project manager, full transparency into the verified work histories of your team and see the progress of your projects all in one place.
"We were able to do more with less because of our Tapgency, with an integrated telephony and contact center system that transformed our reporting capabilities."
Marc Jülicher,
Technical Director